Charlottesville Townhouses
2017 Fourth Quarter Review
135 Charlottesville Townhouses Sold for $43,101,677 in the Fourth Quarter of 2017
Lowest Sale: $96,000 | Highest Sale: $813,200
Total Townhouse Units Sold: 135
Average Sales Price: $319,271
Median Sales Price: $269,333
Average List to Sales Price: 99.2%
Average Days on Market: 41
Charlottesville townhouse sales decreased in the fourth quarter of 2017. A total of 135 townhomes sold in the 4th quarter of 2017 compared to 148 townhomes in the 3rd quarter of 2017.
57% of Charlottesville townhouse sales in the fourth quarter of 2017 were in the below $300,000 price range. 1 foreclosure and 1 short sale sold this quarter. Distressed property sales made up 1.5% of the Charlottesville townhouse market in the 4th quarter of 2017.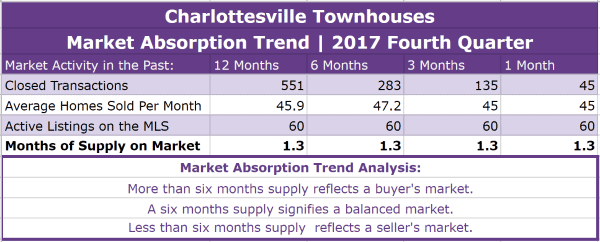 The Charlottesville townhouse market is a seller's market.
View Recent Charlottesville Townhouse Market Reports Here:
Charlottesville Townhouses | 2017 Third Quarter Review
Charlottesville Townhouses | 2017 Second Quarter Review
Looking to buy or sell a Charlottesville townhome? We Can Help!
SELLING: It's important that you hire a Charlottesville Townhouse Specialist who knows the market. If you are considering selling your townhouse in Charlottesville and you would like to know the value in today's market, you can find out at What's My Charlottesville Townhouse Worth or give us a call at 434.882.1055 to schedule a FREE comparative market analysis tailored to your specific home selling needs.
BUYING: If you are interested in buying a townhome in Charlottesville, let us guide you through the buying process. Contact us at 434.882.1055 to discuss your home search criteria. We'll set up a custom search based on your real estate needs and email you all Charlottesville MLS listings that meet your search criteria as they come on the market. Start your Charlottesville home search now by viewing townhouses for sale in Charlottesville below:
Just Listed Townhouses For Sale in Charlottesville
Click Here to View Townhome Listings:
Charlottesville Townhouses For Sale
Albemarle County Townhouses For Sale
This report examines townhouse sales in Charlottesville and Albemarle County.
Sales information is courtesy of the Charlottesville Area Association of Realtors MLS.
Information deemed reliable but is not guaranteed.
For more information on townhouses for sale in Charlottesville Virginia, please call Allegra Williams, Realtor with Keller Williams Realty at 434.882.1055. Contact me today to get your Charlottesville townhome on the market or find your dream home in Charlottesville!